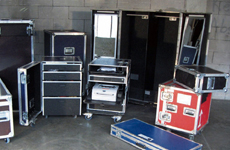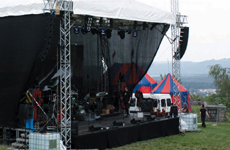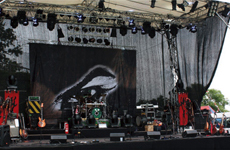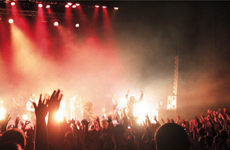 Blue Lines Backline Rental
Hier eine kleine Auswahl der Künstler / Veranstaltungen die wir in jüngster Zeit beliefern durften:
wurde 1991 von Wolfgang Fehl, damals noch tätig als
Veranstaltungstechniker, gegründet.
Angesichts einer wachsenden Nachfrage nach Leihinstrumenten / Backline auf den unterschiedlichsten Veranstaltungen, entstand bei ihm die Idee, diesen Geschäftsbereich selbst in die Hand zu nehmen. Zunächst in den Räumlichkeiten der Firma PA Sound Ton & Licht Service GmbH untergebracht, wurde damit begonnen, ein entsprechendes Verleihsortiment kontinuierlich aufzubauen.
Seit 2001 verfügen wir über einen eigenen Standort mit festem Mitarbeiterstamm. Ein gut ausgestattetes Lager international gefragter Marken und beste Beziehungen zu den verschiedensten Herstellern und Zulieferern, versetzt uns in die Lage, auch anspruchsvollste Vorgaben umzusetzen.
Zu einem festen Kundenstamm in der Region Rhein-Main, kamen im Laufe der Jahre noch zahlreiche nationale wie internationale Kunden hinzu, sodaß wir mit ein klein wenig Stolz sagen können, dass sich die Firma Blue Lines Backline Rental als zuverlässige und kompetente Adresse in der Veranstaltungsbranche etabliert hat.
Probieren Sie es aus.
ABC, John Abercrombie, Sezen Aksu, Alphaville, Paul Anka, Thomas Anders, Ian Anderson, Lynne Arriale, Jack Ashford, Rick Astley, ASP, Auletta, Ayabie, Bajofondo,
Bambi
, Jimmy Barnes, Lisa Bassenge, Mike Batt, Stefano Battaglia, Beach Boys, Natasha Bedingfield, Bellamy Brothers, Dickey Betts, Benda Bilili, Beyond Fear, Black Gospel Singers, Boney M., Richard Bona, Bonecrusher, Goran Bregovic, Till Brönner, Buena Vista Social Club, Jarrod Cagwin, John Cale, Ron Carter, Roger Chapman,
Cher
, Roger Cicero,
Miley Cirus
, Chico & The Gypsies, Johnny Clegg, Jimmy Cliff, Commitments, Paolo Conte, Georgos Dalaras, Dap Kings, Chris De Burgh, Rick Derringer, Die Jungen Tenöre, Al Di Meola, Dio,
Celine Dion
,
DJ Bobo
, Doro, Drowning Pool, Ensemble Modern, Esperanza, Bill Evans, Equals, Demi Evans, Cesaria Evora,
Family of the Year
, Jose Feliciano, Tiziano Ferro,
Helene Fischer
, Flobots, Roberto Fonseca, Fräuleinwunder, Jan Garbarek, Tom Gäbel, Geiselwind Open Air, Gloria Gaynor, Evelyn Glennie, Robin Gibb, Thomas Godoj, Great White, Adam Green, Rigmor Gustafsson, Buddy Guy, Gypsys, Wolfgang Haffner, Steve Harley, Roy Hargrove, Mihalis Hatzigiannis, Hansi Hinterseer, Heftig, Hermes House Band, Hessentag, Herzberg Festival, Hinder, Hip Hop Open Stuttgart, HR Jazz Festival, HR Sinfonie Orchester, Roger Hodgson, Dave Holland, Hooters, Sophie Hunger, Ingram Hill, Incognito, Jose James,
Alicia Keys
, Jarabe De Palo, Jazz in der Burg Dreieich, Howard Jones, Udo Jürgens, Juliette and the Licks, Junge deutsche Philharmonie, Jennifer Kae, Ronan Keating, Toby Keith, Stephen Kellogg, Nigel Kennedy, Angelique Kidjo, Nina Kinert, B. B. King, Klezmatics, Habib Koite, Kool & The Gang, Paul Kuhn, LA-33, Nils Landgren, Christof Lauer, Melissa Laveaux, Lemonheads, LIT,
Little Dragon, London After Midnight, Los Lobos, Lott Festival, Luxuslärm,
Peter Maffey
, Manhattan Transfer, Marquess, Marilyn Manson, Mireille Mathieu, Maximo Park, Edwin McCain, Roger McGuinn, Katie Melua, Maria Mena, Joe Dee Messina, Marcus Miller, Milva, Miyavi, Morelenbaum, Mothers Finest, Music Maker Foundation, Max Mutzke, Allanah Myles, Middle Of The Road, Hazmat Modine, Monster Magnet, Museumsuferfest Frankfurt, Musikmesse Frankfurt, Yael Naim, Nena, Silje Nergaard, New Model Army, Nguyên Lê, Patrick Nuo, Oasis,
Tom Odell
, Olivas Pain, Hans Werner Olm, Orishas, Maceo Parker,
Pink
, Portico Quartet, Omara Portuondo, Public Enemy, Puddle Of Mud, Radiopilot, Reamonn, Joshua Redman, Riannah, Right Said Fred, Ringsgwandl, Lee Ritenour, Rheingau Musikfestival, Roachford, Rodgau Monotones, Rose, Marianne Rosenberg, RPR Open Air Mainz, Samsas Traum, Carlos Sancha, Schiller, Schlossgrabenfest Darmstadt, Scooter, Sevendust,
Shakira
Slade, Percy Sledge, Jimmy Smith, Jocelyn B. Smith, Patti Smith, Soil & Pimp, Sonar Nights At Frankfurt, Omar Sosa, Spencer Davis Group, Cassandra Steen, Mike Stern, Curtis Stigers, Status Quo, Stefan Sulke, Sunrise Avenue, Suzi Quattro, Sweet Vandals, SWR "Kultur im Foyer", Sara Tavares,
Adel Tawil
, The Boss Hoss, The Monks, The Roots, The Sweet, Jimi Tenor, Gianmaria Testa, Henri Texier,
Justin Timberlake
Thärichens Tentett, Chris Thompson, Tokio Hotel, The Troggs, Derek Trucks, Traffic Jam Open Air, Tremeloes, Trio Joubran, Tuomo, Bonnie Tyler, Uriah Heep, Nikos Vertis, Vincent, Wagner Love, Wailers,
Tyler Ward
, Kate Wax,
Wetten Dass..?
, Kim Wilde, Edgar Winter, Johnny Winter, Wishbone Ash, Chely Wright, Lizz Wright, Victor Wooten, Wutzdog Festival, Yaddam, Elliott Yamin, Helmut Zerlett, Miquel Zenon, u.v.a.